Missing - FRAME-GROUND sample

Missing - FRAME-GROUND sample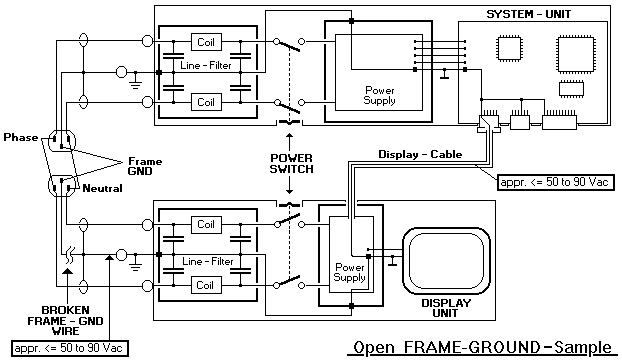 In the above sample the Display Frame ground wire is broken.
Primary this is an SAFETY HAZARD ! and MUST be REPAIRED !
(e.g. in the above sample, you MUST replace the line cord.)

If LINE-GROUND is missing 
 You will measure appr. 50 Vac (110 Vac line voltage)  or appr. 95 Vac (220 Vac line voltage) on SIGNAL-GROUND wires.
 Such a condition, is NOT ACCEPTABLE for HUMANS, and will
DESTROY electr. Components or connected equipment.


REMEMBER - normally you should

 DISCONNECT ALL-LINE-Cords first, and then disconnect SIGNAL-Cable(s)

- or -
 CONNECT ALL-SIGNAL-CABLE(s) first, and then connect the LINE-Cords.
---
Please see the LEGAL  -  Trademark notice.
Feel free - send a 

  for any BUG on this page found - Thank you.