Removing the Trim Bezel - Netfinity 5600 - Type 8664

Removing the Trim Bezel:

Refer to the following illustrations while you perform the steps in this procedure.

Tower model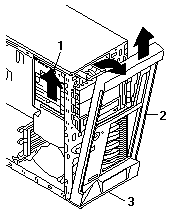 Rack model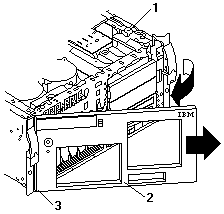 1 Bezel-release lever
2 Trim bezel
3 Side with bezel tabs and slots

To remove the trim bezel:

 Move the blue bezel release lever -1- following the curve of the lever opening.
 Lift the bezel tabs out of the slots -3- and pull the bezel -2- away from the server front.
 Store the bezel in a safe place.
---
Please see the LEGAL  -  Trademark notice.
Feel free - send a 

  for any BUG on this page found - Thank you.