Removing the Left-side Cover (tower model) - Netfinity 5600 - Type 8664

Removing the Left-side Cover (tower model)

Before you begin: Read 'Safety information'.

Note: The illustrations in this book are similar to the server; details might vary.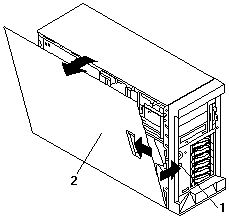 1 Cover-release latch
2 Cover

To remove the left-side cover of the tower model or the top cover of the rack model:

 If you are planning to install or remove any part other than a hot-swap hard disk drive, hot-plug adapter,  hot-swap power supply, or hot-swap fan, turn off the server and all attached devices and disconnect all  external cables and power cords (see 'Preparing to install options').
 Slide the cover-release lever -1- on the front of the server to release the cover and slide the cover -2-  toward the rear of the server about 25 mm (1 inch).
 Move the top edge of the cover out from the server; then, lift the cover off the server.
 Set the cover aside.

  -Attention- For proper cooling and airflow, replace the cover before turning on the server.
Operating the server for extended periods of time (over 30 minutes) with the cover removed might damage server components.
---
Please see the LEGAL  -  Trademark notice.
Feel free - send a 

  for any BUG on this page found - Thank you.