Top cover removal

Top cover removal

Note: Read Safety Information.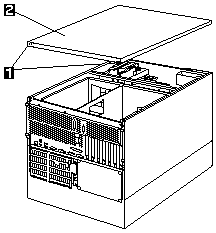 1 Thumbscrews
2 Top cover


To remove the server top cover:

 Loosen the two thumbscrews 1 on the back edge of the top cover.
 Slide the top cover 2 slightly toward the rear of the server;  the cover will stop after about 25 mm (1 inch).  Lift the cover off the server and set the cover aside.

  -Attention- For proper cooling and airflow, replace the top cover before turning on the server. Operating the server for extended periods of time (over 30 minutes) with the top cover removed might damage server components.
---
Please see the LEGAL  -  Trademark notice.
Feel free - send a 

  for any BUG on this page found - Thank you.