Tape Cartridge Labels

Tape Cartridge Labels


When labels are used, the labels identify the volume serial number (volser) and the type of cartridge.
The tape library includes the label information as part of its internal library inventory.

Figure 28 shows how to insert the tape Cartridge label into a tape cartridge.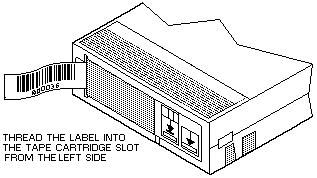 Figure 28. Inserting a Bar Code Label 
---
Please see the LEGAL  -  Trademark notice.
Feel free - send a 

  for any BUG on this page found - Thank you.