Tape Leader Check

Tape Leader Check

Check the position of the tape leader in the cartridge by lifting the release lever that opens the tape door.
Be sure that the leader is positioned as shown in Figure 33. Make sure the edges of the tape leader tabs are on top of the rails inside the tape cartridge.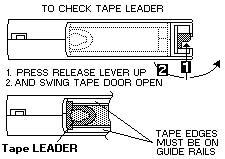 Figure 33. Tape Leader Check 
---
Please see the LEGAL  -  Trademark notice.
Feel free - send a 

  for any BUG on this page found - Thank you.