System Board / Riser Card Locations (Netfinity 1000 Type 8477)

System Board Locations

 

System Board Connectors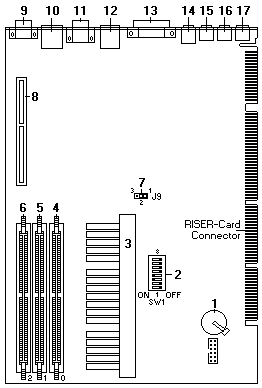 Riser Card Locations

See > ServeRAID Adapter (Tip H164701)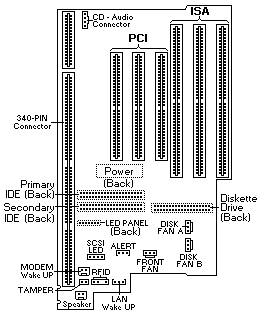 Notes:
 Alert on LAN and AssetID (RFID) are available on some models only.
 If you attach a 4-position cable connector to the 2-pin Modem Wakeup connector,  ensure that the unued positions are next to the bottom of the riser card .  If this cable is incorrectly attached, the server might automatically restart each time  you turn off the power.
 The CD-ROM drive and the diskette drive are the only IDE devices that come with the server.
 You can install another IDE device, such as a CD-ROM drive or tape drive, however,
IDE Hard Disk drives are not supported.
See > Power Connector
---