Installing the Expansion Unit in a NetBAY Enclosure - EXP200 Type 3530 - 1RU, 1RX

Installing the Expansion Unit in a NetBAY Enclosure

NetBAY enclosures are stackable and each can store a different device, such as the EXP200 expansion unit.
You can also attach a server on top of the enclosure.
Refer to the NetBAY documentation for details on installing other devices.

Note: Due to the depth of the NetBAY3E enclosure, it might be difficult to set the expansion unit option switches once installed.
Verify that Option Switch 5 is set to Off and Option Switch 1 and the tray ID switch are set properly for your environment (see 'Setting the interface options' for further device setting's ).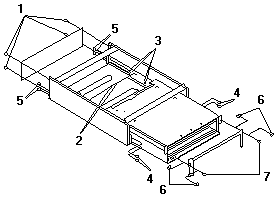 To install the expansion unit in the enclosure, use the following procedure:

 Remove the rear of the enclosure -1-.
 Use the following illustration to determine the appropriate enclosure mounting holes for installing  cage nuts to secure your device and rails.


 

 On the rail marked "L", remove and save the small screw -2-; then, loosen the four large screws -3-.
 Hold the rail against the outside of the left enclosure mounting flange and loosely insert the front black hex screws -4-.
 Extend the rail outside of the rear enclosure mounting flange; then, install and tighten both rear black hex screws -5-.
 Tighten the two front screws -4-; then, tighten the four large screws -3-.
 Repeat (above) step 3 through step 6 to install the rail marked "R" on the right side of the enclosure.
 Slide the expansion unit into the enclosure; then, remove and discard both white screws and wingnuts -6- from the bezel.
 Align the bezel locator pins with the expansion unit; then, secure the bezel and EXP200 with two black hex screws -7-.
 Use the two small screws -2- (removed in above step 3) to secure the rear of the expansion unit.
 Install hard drives, fans, and power supplies in the EXP200 expansion unit.
---
Please see the LEGAL  -  Trademark notice.
Feel free - send a 

  for any BUG on this page found - Thank you.