Power Supply Controls and Indicators - EXP200 Type 3530 - 1RU, 1RX

Power Supply Controls and Indicators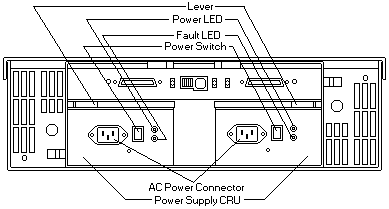 Power Supply LED Indications
LED
Description
Power (green)
LEDs are On when power switches are turned on.
Fault (amber)
If only the amber LED is on, then the power
supply is turned off.
Power (green) and Fault (amber)
Both the green and amber LEDs on
indicates a power supply failure.
---
Please see the LEGAL  -  Trademark notice.
Feel free - send a 

  for any BUG on this page found - Thank you.