Viewing the Physical Configuration

Viewing the Physical Configuration

From the SSA Main Menu1 select SSA Adapter List, the adapter, and then Disk Service Aids. A window opens showing the physical arrangement of the SSA disk drives attached to the adapter selected: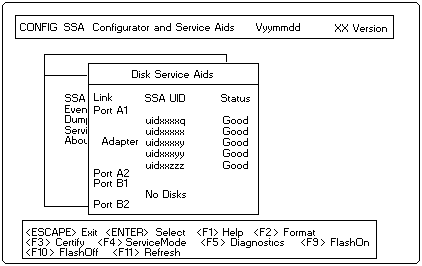 In this example, four disk drives are connected between ports Al and A2 of this adapter, in a loop, in the order shown, with the SSA adapter in the other system. There are no disks connected to ports B1 and B2.

If a dashed line appears in the list of disk drives, it means that the SSA loop is broken at that point.
---
Please see the LEGAL  -  Trademark notice.
Feel free - send a 

  for any BUG on this page found - Thank you.