Expansion Bays (Netfinity 7000 - 8651)

Expansion Bays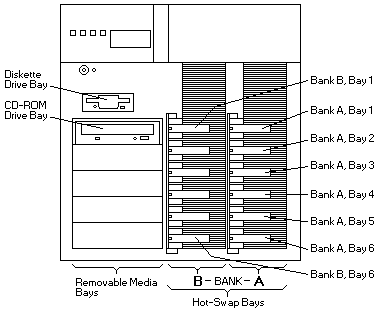 Hot-Swap Bays: The hot-swap drive bays support  up to 12 UltraSCSI hard disk drives. The hot-swap  feature enables you to remove and replace hard disk  drives without powering off the server.
 These bays are grouped into two banks.

 Removable-Media Drive Bays: The server has five  drive bays tor removable-media devices such as  tape-backup drives, compact disc read-only memory  (CD-ROM) drives, optical drives, or additional diskette  drives. One of these drive bays contains a CD-ROM  drive.
 These bays are used for non-hot-swap drives.

 Diskette Drive Bay: This dedicated bay contains a  3.5-inch, 1.44 MB diskette drive. This drive uses
 1 MB and 2 MB diskettes. For optimum use, format
 1 MB diskettes to 720 KB and format 2 MB diskettes to 1.44 MB.
---
Please see the LEGAL  -  Trademark notice.
Feel free - send a 

  for any BUG on this page found - Thank you.