LCD FPC ASM 13.3"

LCD FPC ASM 13.3"




Disconnect the LCD FPC cable from the LCD.

NOTE: The LCD FPC cable has a double-sided adhesive tape attached on its back side.
A current black tape (LCD FPC Stopper Tape) must be applied to this cable.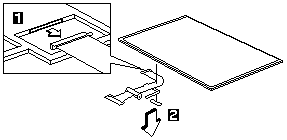 ---
Please see the LEGAL  -  Trademark notice.
Feel free - send a 

  for any BUG on this page found - Thank you.