Select the part and click the Associate Attributes to Connector button

to display the Associate Attributes to Connectors dialog box.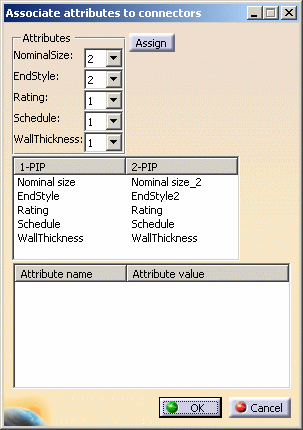 ATTRIBUTES: This section of the box displays all the attributes entered in the Connector Attributes file (see below). You will need to decide which ones you want to associate to specific connectors. The drop down arrow allows you to select how many of each attribute you want to be available to you - nominal size and end style have two attributes each in this example. Click the down arrow and make your selection. Click Assign when you have finished.
The second pane displays the connectors on your part and the attributes associated with them. In the example above, for instance, Connector 1 is associated with EndStyle, while Connector 2 is associated with EndStyle2. You can use the Edit - Properties function to edit the values assigned to these attributes.
The third pane will display how many of each type of attribute are associated with the part, and the values, if any, assigned to them. You can also use it to change the attribute assigned to each connector. To display the attributes, select one of the attributes in the second pane, say EndStyle. The window displays all the available end styles on the part and their values.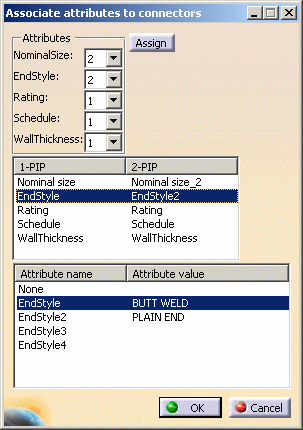 To change the attribute associated with a connector: Click on the attribute beneath the connector in the second pane. Then, in the third pane, select the attribute you want to replace it with. In the example above, for Connector 1, if you want to change EndStyle to EndStyle2, select EndStyle in the second pane and EndStyle2 in the third pane.
Click OK when you have finished.