Welcome to the Structure Functional Design User's Guide.
This guide is intended to familiarize users with the product.
This overview provides the following information:
Structure Functional Design (SFD) in a nutshell
SFD positioning in the global structure process
Getting the most out of this guide
Structure Functional Design in a nutshell
Version 5 Structure Functional Design allows you to enrich the conceptual design of structural elements. It offers an easy-to-use and easy-to-learn graphic interface.
The overall ship design project goes through a number of different phases from conceptual design through functional and detail design to extraction of deliverables. This product addresses functional design requirements for the shipbuilding industry. It builds on conceptual design letting you refine and strake the hull, add plate thicknesses to decks and major bulkheads, define longitudinal and transverse stiffener systems. It also permits calculation of ship strength as well as early weight, labor and material estimates. It builds a strong bridge between functional design and the manufacturing process by integrating design units geometry definitions and planning break creation at an early stage of the design process.
Structure Functional Design is implementing Windows shortcuts (copy, paste, etc.) for all structure shipbuilding classes, allowing unprecedented productivity and an easy learning curve.
As a scalable product, Structure Functional Design can be used with other Version 5 products such as Generative Shape Design and Generative Drafting.
SFD positioning in the global structure process
The image below explains how to position Structure Functional Design in the global structure process.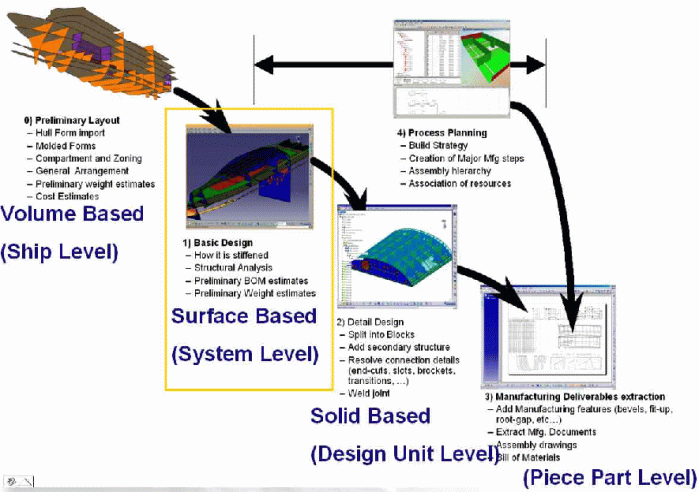 Getting the most out of this guide
To get the most out of this guide, we suggest that you start reading and performing the Getting Started tutorial. This tutorial will show you how to create basic structural components.
Once you have finished, you should move on to the User Tasks section, which deals with handling all the product functions.

The Workbench Description section, which describes the Structure Functional Design workbench, and the Customizing section, provide further useful information.

Navigating in the Split View mode is recommended. This mode offers a framed layout allowing direct access from the table of contents to the information.