A Parameters button is available for pocket machining area features only.
Click this button to display a pop-up panel showing the feature parameters such as Maximum channel width, Minimum channel width, Minimum corner radius, Depth and Bottom fillet radius.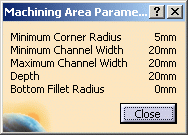 If the parameters for the particular feature have not already been computed, they are computed and displayed on the pop-up panel.
Note that parameters are not computed for guides selected by means of the Sectioning contextual command.