The Cutting Plane Definition dialog box appears.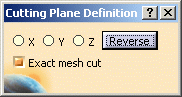 X, Y, Z options: lets you select the normal of which the direction is the X, Y or Z axis
Reverse: lets you reverse the cutting part
Exact mesh cut: if this option is activated, you can cut the mesh exactly where you drag the cursor. If this option is not activated, the cutting follows the mesh elements.