The branch point or branch end closest to the point of selection is selected as the rotate point and is highlighted.
Make your selection in the specification tree, since the exact position of the selected point has to be known.
Note: If a branch point is selected as the rotate point, a message asks the user to confirm the split of the branch into two at the selected branch point.
A green arrow and a dialog box appear at the same time.
The green arrow indicates the direction of rotation appears on the geometry area and the impacted bundle segment is highlighted letting you check the impact of your action.
The user can modify the angle by selecting the green arrow directly.
The Rotate dialog box pops up.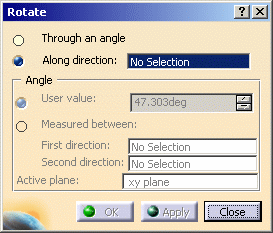 The default active plane is the one you have defined in the Harness Flattening Parameters dialog box at the beginning of your session.