The first sheet is empty, you can add comments or any additional information.
Each drafting sheet has the following naming convention:
Sequence name – Ply name in ply mode
PlyGroup name – sequence name in sequence mode
One sheet is created for each sequence (or for each ply).
The cartridge is inserted in each sheet.
The reference shell of the ply appears in an exact mode for each view.
The ply is in shading mode or exact mode for each view depending on your choice in the customizing section.
The color associated is the color of the 3D model (i.e. a color is associated to each direction)
The rosette of the ply appears for each view and for each ply (It is a 2D view of the xy axis + a 45 degree vector).
It is just a projection of the 3D local rosette of the ply in 2D. It is located besides the plies name.
A ply name annotation appears for each ply and for each view. It is linked to the ply with a text leader.
You can modify the location of the ply annotation and text leader in the drafting workbench.
Example of Ply Annotation and Rosette Representation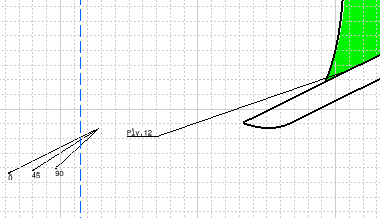 The following information appears directly in the cartridge:
Ply group name
Sequence name
Material name. If all the plies of a sequence share the same material, the name of the material appears only once.
Otherwise, the material name appears for each ply)
Direction value
Rosette
Ply thickness. However it does not appear for the core, it is replaced by …)
If the sequence has several plies, the information for each ply are separated with the / sign.
Only the fields that are published and that correspond to the Composites information mentioned here above are filled.